Estates of the Commission for Semitic Philology
Among the legacies of the Commission for Semitic Philology dissolved in 2015 are two estates of special importance: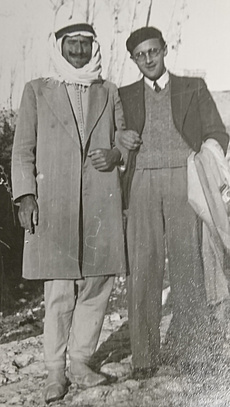 Anton Spitaler (1910–2003) was Chairman of the Commission from 1966 until 2002, decisively shaping its work. Even before the Commission was founded, he was involved with the preceding project "Apparatus criticus zum Koran" from 1935 on, shortly after he received his Doctorate (1933). Following his Habilitation (1946) and his appointment (1948), during the 1950s he started to participate in the project "Dictionary of the Classical Arabic Language," back then still under the aegis of the Deutsche Morgenländische Gesellschaft (DMG). Obituary see Akademie Aktuell edition 2/2003.
Anton Spitaler's estate essentially includes his library on Arabic and Semitic studies as well as a collection of material on Classical Arabic lexicography.
Special features are to be mentioned:

the so-called Spitaler-Index, a collection of Old Arabian poetry

Photo collection of old Koran editions (Bergsträßer-Estate)
A year before he died, Anton Spitaler had already bequeathed his private library to the Academy. Among the documents there was also an index with more 1700 references on Old Arabic Poetry. Starting in 2012, the cards were scanned and digitally processed in Erlangen, so they are digitally available today.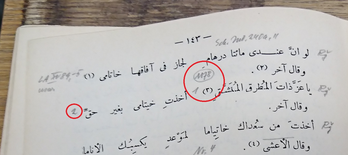 The numbers represent the connection between books and index card. They indicate the index card (upper right) and also the corresponding paragraphs marked with these numbers.
Anton Spitaler and the Bergsträßer-Estate
Also particularly noteworthy are the long unknown whereabouts of the photo collection of old Koran editions initiated by his teacher Gotthelf Bergsträßer and continued by Spitaler's teacher Otto Pretz who bequeathed the collection to Spitaler after his death in 1941. Spitaler originally claimed, that the collection had been destroyed during a bombing raid in 1944. But around 1990 he handed over the collection to Angelika Neuwirth, who has been editing the material within the Berlin-Brandenburg Academy of Sciences and Humanities project of "Corpus Coranicum" since 2007.
While serving the German Foreign Ministry in Bagdad, Amman, Cairo, Congo and Beirut, Kurt Munzel (1905–1986) was also an expert of Arabic and Semitic studies (doctorate in 1948). During his stays in the Middle East he collected coins and tapestries but also manuscripts of various kinds. After he passed away, his complete library estate. Some 450 objects were recorded, comprising books, letters, instructions and golf-course flyers, but also rare items like the two Arabic letterpress amulets, already handed over to the Bavarian State Library. Only about one hundred of these amulets are left worldwide.
Source: Rebhan, Helga. "Gegen reale und vermeintliche Gefahren. Zwei arabische Buchdruckamulette." In: Bibliotheksforum Bayern 2017, 11, S. 22-23.